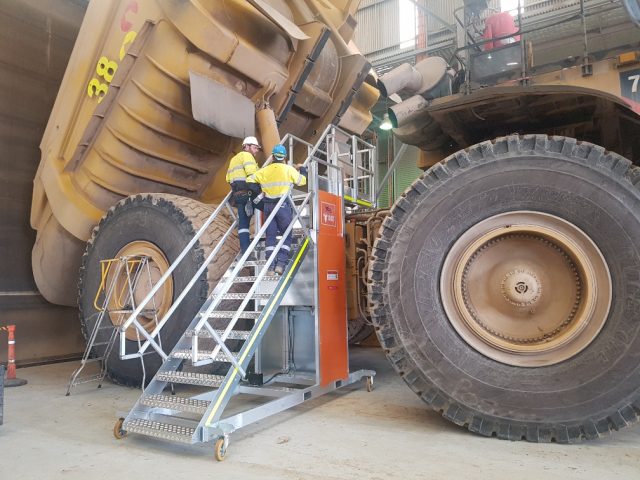 Decades of Focus
Equiptec's mission is to give working teams around the globe the world's best platform system so they can work comfortably, get the job done faster and, above all, be confident of getting home safely at the end of every work day.
Kicking off back in 1994, from a cramped shed in Dunedin, New Zealand — with a shared office at a friend's place over the hill, 2 miles away — Equiptec has built strong foundations as a global company on a single-minded and relentless pursuit to solve our customers' challenges. Built on a culture of innovation, we now draw on nearly three decades of heritage, hands on experience, ingenuity and industry knowledge.
Our greatest motivation comes from making our customers' work lives easier, and more efficient, while helping them get safely to the end of their workday. Our most rewarding moments are when we are told by customers that our innovative products have prevented a potentially deadly incident. This is what keeps building Equiptec's reputation for uniquely engineered, world-class products.
As we have grown, Equiptec has remained at the forefront of the industry, where technological developments are constantly emerging and discerning buyers always seek to improve their status quo. Our experience and ability to innovate has been fed by the feedback of our valued customers – and potential customers.
It is their intelligent inquiries and suggestions that have helped Equiptec to push forward and develop the incredibly versatile Adjustable Height Platform products for customers all over the globe.
Since 1994, Equiptec has been led by the same guiding principles that govern everything we do today: our values.
Customer first
More than just a saying, for us this means that every job must result in a delighted customer who would willingly vouch for Equiptec.
Constant improvement
With a love for challenging the status quo, we are constantly finding better solutions and more efficiencies for both ourselves and our customers.
No nonsense
If we say it, we do it, without delay.
Result focused
What matters to us is our customers' end result. We work to find what the best outcome would look like from their perspective. We recognize when we are out of our depth and will draw on the expertise of others if that is the right way to a solution.
Honesty and integrity
We adhere to the highest moral principles and professional standards. If we are wrong, we own it, find a way to correct it, and move forward.
Lifetime support
If there is something you would like help with, we want to know about it! We are always improving our communication channels and are now offering industry-best lifetime warranties on the Equiptec Adjustable Height Platform range.
Are you ready to own the
high ground?