8 Step Sub Chassis
Giraffe G20 8 Step Sub Chassis extension
Reach those really big jobs! Complete with a compliant landing, the 8 Step Sub Chassis gives you the extra height you need when you have really big gear to look after, lifting the standard Giraffe G20 up 1800mm.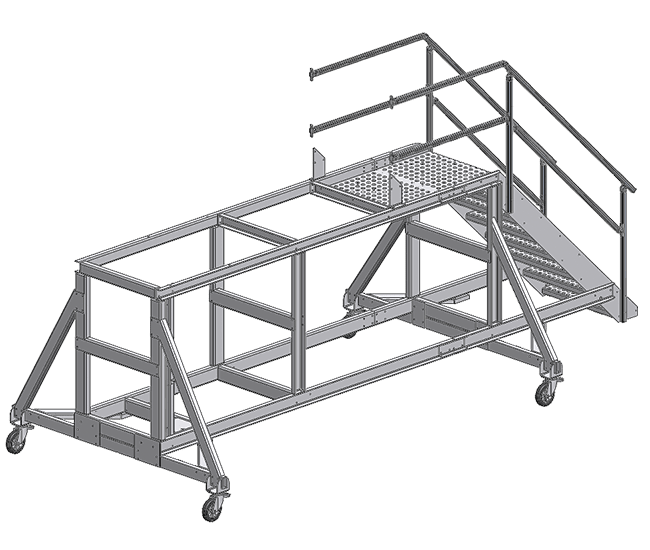 Reach further
This retrofittable extension adds an extra 1800mm in height to the standard G20.
Stay safe at height
Complete with the usual safety features, the 8 Step Sub Chassis also includes a compliant landing for a safe, easy and secure climb to the high work.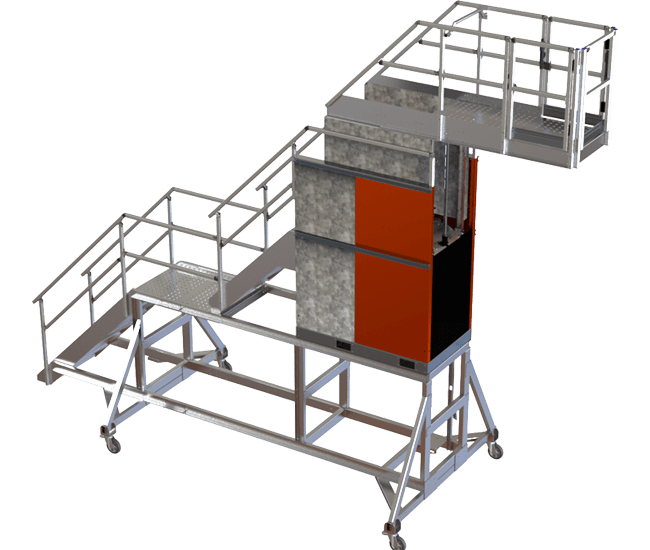 Stable height access
Enjoy the same strong, sturdy and stable work platform despite the 4.7m height.
Use it with
Giraffe G20 Accessory Combo
The Slide Out Deck allows you to reach out up to 2.9m horizontally over an obstacle, even with a 150kg loading. Like the standard deck, it still features three exit gates and can be rolled out effortlessly at any height. Once you are finished with it, simply slide it back in out of the way.
Safely and comfortably allow two workers to complete their tasks side by side with the Hammerhead Deck. With a capacity of 200kg, this deck gives you plenty more room. Having both side gates and individually removable front-facing gates gives efficient, unobstructed access to the work surface on one or both sides.
For those facing height access issues in tight or awkward spaces, the Angled Deck could be your solution. Park your G20 parallel to your work project and walk straight out at 90 degrees from the main deck. The Angled Deck work platform has a 150kg capacity, includes an end gate and can be assembled to either the right or left side of your G20.
Specifications
Deck height from
3375mm to 4725mm
Overall width when fitted
2500mm
Overall length when fitted
7270mm
Giraffe | Bill Nimon, Nimon and Sons Ltd, NZ
The VRS Giraffe system has saved us a lot of training, a lot of time and effort. It's a simple solution to an expensive, long-term problem.
Get your Giraffe G20 with 8 Step Sub Chassis today